The January 2021 issue of the California Lawyers Association's Labor & Employment Law Review features an article authored by Ramit Mizrahi, Andrew Friedman, and Tony Oncidi.
The article—"The Top Employment Cases of 2020″—highlights the most important California state and federal employment cases from last year. Click on the below image to read the article in full.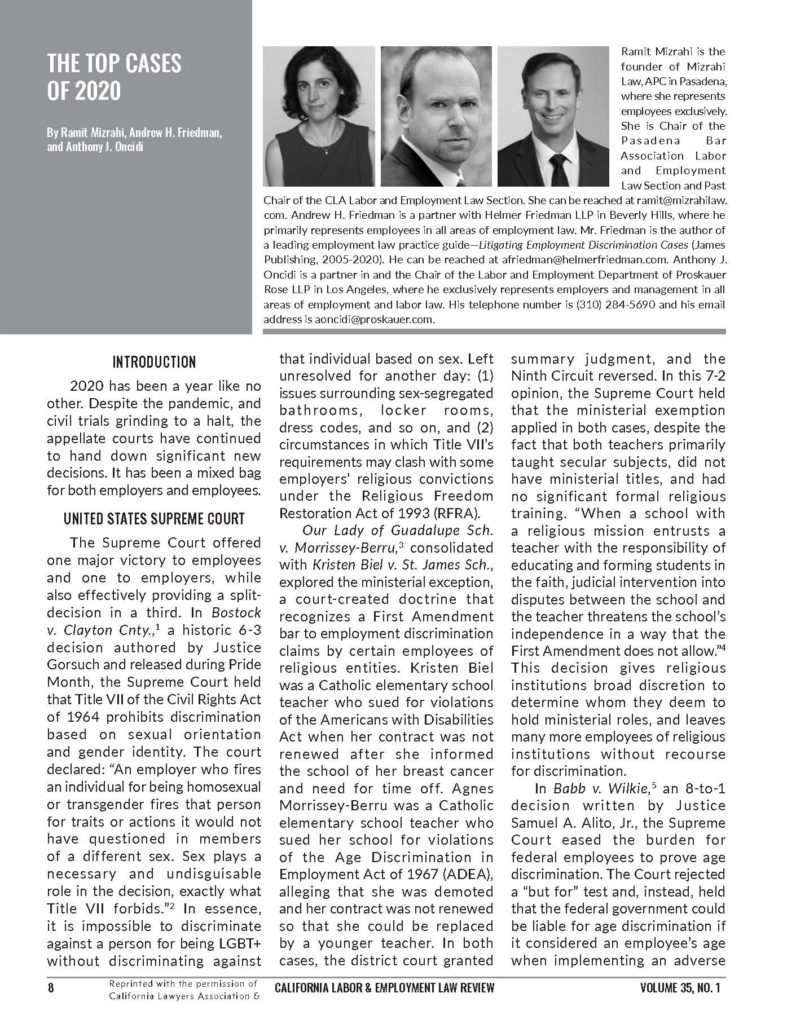 Ramit also spoke on two panels this month:
Thursday, 1/14/21, 3-5 p.m.
2020 Is Done: What's New In 2021?
Program by: Consumer Attorneys Association of Los Angeles
Description: Stay up-to-date on the laws that affect your practices. This program covers new housing laws post-COVID, new employment laws, a personal injury perspective on Proposition 22, and anticipated and current legal challenges to the new laws.
Thursday & Friday, 1/20/21-1/21/21
2021 New Employment Law Practitioner 2021
Program by: California Lawyers Association Labor & Employment Law Section
Description: This is the perfect program for the new lawyers, paralegals, and legal assistants who work with you to learn about the basics of employment law. The program will have six panels: Employment Law 101 (discrimination, harassment, retaliation), Leave of Absence Compliance, Wage and Hour 101, Ethics & Bias During Pandemic Times, California Privacy Rights Act's Top 10, and Complying with the NLRA.

Ramit Mizrahi's article featured in Cal. Labor & Employment Law Review
was last modified:
January 3rd, 2022
by