Within the past two years, Labor Code § 1102.5, California's general whistleblower protection law, went from being a secondary cause of action to the most important one for most employees alleging retaliation. Two critical events spurred this change: (1) the 2020 amendment to section 1102.5 allowing successful plaintiffs to recover attorney's fees; and (2) the California Supreme Court's January 2022 decision in Lawson v. PPG Architectural Finishes, Inc., 12 Cal. 5th 703 (2022), which clarified the framework for evaluating section 1102.5 claims. But while the benefits of attorney's fees are readily apparent, the extent of Lawson's impact remains to be seen.
In its November 2022 issue, the California Labor & Employment Law Review published an article by Ramit Mizrahi that examined all published and unpublished California and federal appellate decisions and federal district court cases that addressed Labor Code § 1102.5 claims post-Lawson. The results suggest that defendants continue to prevail on summary judgment, and some courts may be treating the first step in the sections 1102.5/1102.6 analysis as creating a heavier burden than the first step in the McDonnell Douglas test. If so, the benefits of section 1102.6 to plaintiffs may largely be neutralized.
Click below to read the article in full.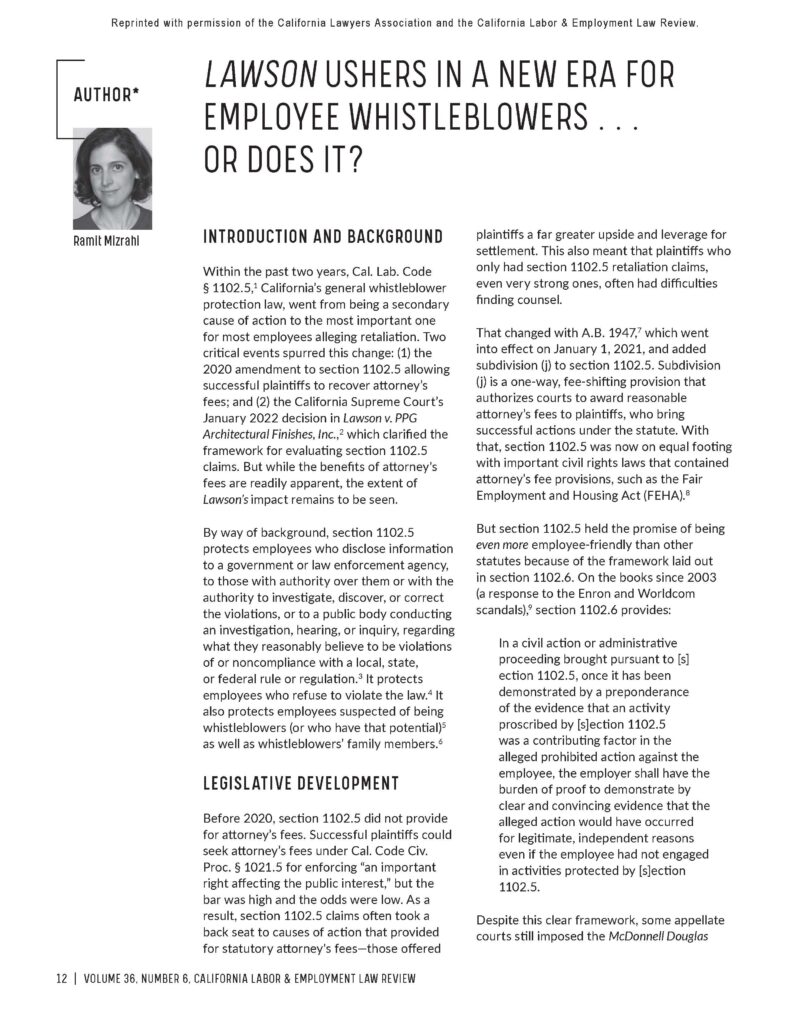 Lawson Ushers in a New Era for Employee Whistleblowers . . . Or Does It? [Ramit Mizrahi's article in Cal. L&E Law Review]
was last modified:
November 4th, 2022
by