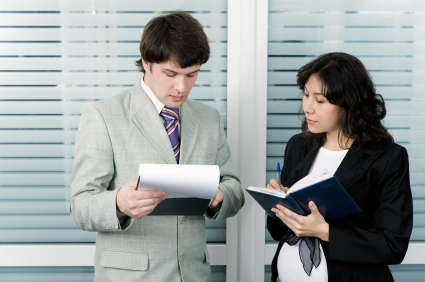 Can you say with confidence if you are eligible for leave under the Family and Medical Leave Act (FMLA), California Family Rights Act (CFRA), Pregnancy Disability Leave Law (PDLL), or other laws? Do you know how much time you would be permitted to take off under each of these laws? Do you know the total time you could take off? If you answered anything other than "yes" to these questions, you are like most workers I speak with who don't yet know what their leave rights are. Read on, and hopefully you will find the information you are looking for.
This is the third post in a four-part series on California's parental and family care leave laws. In the first two posts, I identified the barriers that prevent workers from taking time off to bond with new babies and care for sick relatives and discussed two of them: the need for job-protection and the financial hardship caused by unpaid leave. In this post, I address yet another barrier to California workers taking the full leave time to which they are entitled: a lack of knowledge about their rights.
As an attorney, I have handled many cases in which workers were entitled to family care leave but weren't given the right information by their employers. Some employers failed to provide workers with any information about their leave rights. Worse yet, others gave the workers misinformation, generally telling them that they had less leave time available than they were actually entitled to receive. For every such case, I have fielded many more calls from prospective clients asking me what their leave rights were, and have had to help educate my parent friends time and time again.
Many workers don't know their leave rights
According to a 2012 Department of Labor (DOL) survey, about two-thirds of all employees have heard of the FMLA (66%). This means that one in three workers have no idea that there is a law requiring covered employers to provide job-protected family and medical leave to eligible employees! One can only presume that even fewer workers have heard of CFRA or PDLL, let alone California's Kin Care law. In addition, even those workers who do know of the existence of FMLA, CFRA, or PDLL likely do no know how those laws apply to their specific situations.
Confusion and misinformation are particularly common in the pregnancy context, where employers (both small and large) are familiar with the FMLA's requirements but not those of CFRA and PDLL. Many tell pregnant women that they have 12 weeks total leave for their pregnancy, childbirth, and bonding with their new baby–at which point they must return to work or be terminated. When women work for smaller companies (or are outside of CFRA's coverage), they may be getting short-changed by a month plus, as pregnancy disability leave (PDL), which runs concurrently with FMLA, lasts up to four months (depending on the mother's condition), and includes a post-birth recovery period (barring other complications, six weeks for a vaginal delivery and eight weeks for a c-section). If they work for larger companies and are covered by CFRA, they may be getting cheated out of four extra months of time with their newborn, as once PDL is exhausted, they would have another 12 weeks of CFRA time to bond with their baby. I have spoken to moms who have agonized about returning to work when their newborn was only weeks old; this was a choice that most did not yet need to make. As a mother myself, this pains me, because I remember how difficult those first few months were, even without the added anxiety of being forced to return to work prematurely.
Further, as I discussed last week, many parents cut their leave short because they cannot afford additional time off without pay. Yet for some, paid family leave is in fact available; they just don't know about it. According to research described in the report Leaves That Pay: Employer and Worker Experiences with Paid Family Leave in California (Eileen Appelbaum and Ruth Milkman, 2011), nearly all workers surveyed had experienced a life event that would trigger paid family leave (PFL) through the Employment Development Department, yet more than half of workers did not know the program existed. Worse yet, those in demographics with the greatest need for paid family leave—low-income workers, those whose jobs lacked employer-provided paid sick days or paid vacation benefits, those with less education, workers under 35 (who are most likely to become new parents), Latinos, and immigrants—were even less likely to know about PFL.
Employers are required to provide notice to employees
This should not be happening. To be clear, an FMLA-covered employer is legally required to give employees notice regarding their FMLA rights, including:
General Notice. An employer must provide general notice regarding the FMLA by displaying a poster in a conspicuous place and in written materials provided to the employee. They must further provide general notice in employee handbooks (or other written materials about benefits or leave rights). An employer without an employee handbook may distribute written notices to employees upon hiring.
Notice Regarding Eligibility. When an employee requests FMLA leave, or when the employer acquires knowledge that an employee's leave may be for an FMLA-qualifying reason, the employer must notify the employee of her eligibility to take FMLA leave within five business days. If the employee is not eligible for FMLA leave, the notice must provide at least one reason why.
Notice Regarding Employee Rights and Responsibilities. An employer must provide written notice detailing the specific expectations and obligations of the employee under the FMLA. The employer must also answer questions from employees concerning their rights and responsibilities. Written notice must be provided each time eligibility notice is given. The notice includes the following:

That the leave may be designated and counted against the employee's annual FMLA leave entitlement if qualifying and the applicable 12-month period for FMLA entitlement;
Any requirements for the employee to furnish certification;
The employee's right to substitute paid leave, whether the employer will require the substitution of paid leave, the conditions related to any substitution, and the employee's entitlement to take unpaid FMLA leave if the employee does not meet the conditions for paid leave;
Any requirement for the employee to make any premium payments to maintain health benefits, the arrangements for making such payments, and the possible consequences of failing to make these payments;
The employee's rights to maintenance of benefits during the FMLA leave and restoration to the same or an equivalent job upon return from FMLA leave; and
The employee's potential liability for payment of health insurance premiums paid by the employer during the employee's unpaid FMLA leave if the employee fails to return to work after taking FMLA leave.

Notice of Designation of FMLA leave. The employer is responsible for designating the leave as FMLA leave. It must give the employee written notice of its designation within five days of having enough information to make its determination. If the employer requires paid leave to be substituted for unpaid FMLA leave, or that paid leave taken under an existing leave plan be counted as FMLA leave, the employer must inform the employee of this designation at the time of designating the FMLA leave. The employer must also notify the employee of the amount of leave counted against the employee's total FMLA leave entitlement.
California law also requires notice regarding PDL and CFRA, including:
The employer must post notices in conspicuous places (Notice A for small employers not subject to CFRA and Notice B for larger employers subject to CFRA).
The employer must give an employee a copy of the appropriate notice as soon as practicable after the employee tells the employer of her pregnancy or sooner if the employee inquires about reasonable accommodation, transfer, or pregnancy disability leaves.
The employer must include a description of reasonable accommodation, transfer, and pregnancy disability leave in its handbook or provide a copy of its notice annually.
Employers must also provide notice about PFL, including by providing employees with the PFL Brochure (DE 2511) and posting the notice to employees (DE 1857a).
What more can be done to educate workers?
Of those workers aware of the FMLA, the vast majority learned about it through their employer. According to the 2012 DOL Survey, 44.3% of responding employees said they heard about the FMLA by seeing a poster or other notice posted, while 36.5% responded that they learned of it through employer communications (including through an HR Department). The next highest source of information was through the media, at 11.6% of responding workers. Family members (3.8%), coworkers (3.1%), friends/neighbors (1.8%), and unions (0.7%) were minor players in educating employees about their FMLA leave rights. This means that the employer is the primary source of information about leave laws, and a large part of the efforts aimed at increasing employee awareness should be targeted at the employer.
With respect to PFL, the Leaves That Pay report found that employers were the most common source of information. 63.4% of private sector and non-profit employees learned about the program from their employer. However, outside sources also had tremendous influence here, with friends and family a source of information for 49.3% of workers, followed by the internet (hello, reader!) for 29%, a letter from the State for 26.2%, a doctor or clinic for 24.3%, and the media for 6.8%.
I believe that there are at least four things that can be done to increase awareness of employee leave rights and benefits:
Increasing penalties and enforcement of notice requirements;
Focusing on educating managers and Human Resources professionals;
Public awareness campaigns; and
Changing language used to refer to leaves.
1. Increasing penalties and enforcement of notice requirements
As noted above, posters and posted notices are the most common way that employees learn about their leave rights. General notice is of particular importance because it helps people learn their rights in advance of when they might actually need them, so they can plan accordingly and make the appropriate arrangements with their spouses and other caregiving family members.
Under the FMLA, the maximum fine for failing to comply with the posting notice is a $110 penalty for each offense. Under the approved pregnancy regulations in California, the remedy for an employer's failure to provide notice is simply an order that the employer provide such notice. Neither of these provide particularly strong incentives for employers to provide general notice to workers. Such penalties, if enforced at all, amount to little more than a slap on the wrist. Stiffer penalties or greater enforcement of these notice requirements may help make notice of leave laws a greater priority for employers.
It is also important that we ensure that employers provide workers notice of their eligibility for protected leave. My experience is that many employers who know enough to put up the posters still fail to give workers written notice regarding their eligibility when they make known that they might need qualifying leave (for example, when they announce they are pregnant). As a result, the very people needing to take leave remain uninformed about their rights, to the detriment of the health and well-being of themselves and their loved ones.
2. Focusing on educating managers and human resources professionals
The 2012 DOL Survey (p.29) found that while 99.1% of covered employers permit FMLA leave for at least some FMLA-qualifying reasons, only 69.5% allowed leave for each of the reasons covered by the FMLA. This means that 30+% of employers covered by the FMLA are denying leave for covered reasons! Human resources personnel, office managers, and others responsible for leave administration play a critical role in informing and educating workers. If they do not know the law, how can they properly advise workers? It is therefore critical that they be educated about the coverage of the FMLA and its notice requirements.
Under the FMLA, an employer's failure to follow notice requirements—particularly in situations where workers advised they would need leave—may be deemed interference with, restraint, or denial of the exercise of an employee's FMLA rights, just as it would be for an employer to refuse to provide leave to an eligible employee with qualifying reasons. An employer who interferes with or denies an employee's leave rights may be required to compensate the employee, including for wages and benefits lost, and may be required to reemploy, reinstate, or promote the employee or take outer measures to fix the harm caused. Managers and HR professionals must be educated about their obligations, including notice requirements, and about the consequences of failing to give the appropriate notice to workers.
3. Public awareness campaigns
Employers are the primary source of information regarding leave rights, and encouraging them to comply with the law should be the top priority. However, family, friends, doctors, the internet, and media also serve important roles in transmitting information. We can therefore help address the knowledge gap through public awareness campaigns. Several are already in progress. For example, the Department of Labor has created a Family and Medical Leave Act Employee Guide that addresses common employee questions. Employee advocacy groups have also created informational guides that cover California laws, such as the
Know Your Rights! Guide put out by The California Work and Family Coalition.The Leaves That Pay report contains two policy recommendations regarding further outreach: (1) that it be expanded to target low-income, Latino, and immigrant workers, with cooperation of community groups, and (2) that doctors, hospitals, and clinics make application forms available in their offices and facilities (as well as in State agency offices) so that that workers (and family members with caregiving workers) who are receiving treatment have access to information.
4. Changing language used to refer to leaves
Language matters. Do you use the term "maternity leave" to refer to a woman's taking of CFRA baby bonding leave? Consider using the terms "parental leave" or "family leave" instead. Otherwise, you carry the risk of suggesting the leave is only one that new mothers can (or should) take. Many dads don't know that they have the same exact leave rights when it comes to baby bonding: if they work for a qualified employer and meet the basic eligibility requirements, they too can take the full 12 weeks to bond with their new babies. Calling the leave "parental leave" or "family leave" uses neutral terminology that suggests it is available to both parents regardless of their sex.
Conclusion
The more workers know about their rights, the more likely they will be to take it. It is important that they learn of their rights not just at the time they may need them, but in advance, so that they can plan and prepare to be caregivers. Employers must provide the requisite notice, and public awareness can be further increased through campaigns and thoughtful use of language.
Next week, I will discuss what I consider to be the most difficult barrier to employees not taking their full family leave: the fear that it will harm their career prospects.

Barriers to Family Leave, Part 3
was last modified:
July 13th, 2020
by