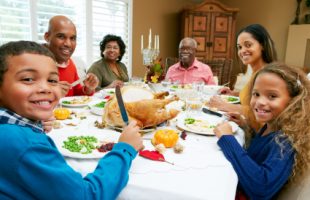 The Mizrahi Law Blog wishes all of you a wonderful Thanksgiving (or, Thanksgivukkah if you are celebrating that!).
There are so many reasons to be grateful this year. While many of them are personal to each of us, there is one that all of us should celebrate: the expansion of paid family leave to California workers.
Family leave laws are tremendously important. They allows workers — female and male — to put their families first and take time off to care for them when they are in need. Leave laws are one component in a broader set of laws that protect workers who care for their families, allowing men and women both to lead richer, fuller lives without fear of losing their jobs or being "mommy tracked" or "daddy tracked." This issue has always been close to my heart, but as a parent myself, it has particular significance.
As I've discussed on this blog before, paid family leave is an essential safety net for workers who take time off to care for seriously ill loved ones or to bond with their babies. In a piece written for CELA Voice called A reason for gratitude: we can care for loved ones when they need us most, I talk about a new change to California's paid family leave law that expands its scope to cover care for grandparents, grandchildren, siblings, and parents-in-law. I explain why paid family leave creates a win-win situation for workers, their families, employers, and society as a whole. I then talk about next steps to make paid family leave a reality for more working Americans, inside and outside of California.
Read more here.

Yet another reason for gratitude this Thanksgiving!
was last modified:
May 12th, 2014
by